JJ Cale - Call The Doctor
JJ Cale's album Naturally was one my older brother's favorite albums and became one of my favorites as well. Call The Doctor is from the Naturally album and has a haunting minor Blues feel to it. Sounds like a natural for Harp N Guitar.
Difficulty: Medium
Lesson Length: 9:24
Instructor: George Goodman
Barre chords are needed for this one which is what increases the difficulty. Otherwise, there's only 3 chords and the harmonica melody is straight-forward
The Hohner Harmonica Neck Holder fits harmonicas up to 7-1/2″ long.
With a long-lasting nickel-plated finish, this harmonica rack is adjustable and fits any neck shape.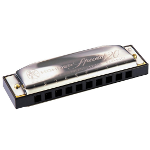 In this lesson, I am playing a Hohner Blues Harp in the key of A.
00:48 - Progressions
There are only 3 chords in the entire song. The difficult part is that they are all barre chords - F#m, G#m and A.
Each chord lasts for 2 beats forming a 2 bar pattern that repeats throughout the song.
2:07 - Rhythm and Feel
Call The Doctor employs a slow Bluesy swing feel.
3:22 - Harmonica
The song is in the key of F#m which is the relative minor to A Major so I have found that an A Major harmonica works well for this melody.
5:53 - Harmonica with Guitar
Run through the harmonica part with the guitar accompaniment.
6:35 - Full Song Play Along
Let's play through the whole song together.

That's it for Call The Doctor.

Stay In Tune. Peace.

George

UA-45977247-1