Learn Harmonica and Guitar

Online videos provide the guidance to help you sound great on Harp N Guitar
Sign Up For Free Song Lessons
Enter your email address below and I will send you video Song Lessons designed especially for Harmonica and Guitar – FREE.
We value your privacy and would never spam you
FREE HARP RIFFS & SONG LESSONS
Learn Classic Blues, Rock and Folk Riffs on Harmonica
Song Lessons Especially Arranged for Harp N Guitar
Harmonica Tabs
Guaranteed To Teach You How To Bend Notes on the Harmonica
Complete Resource - eBook & Video
Become Great At Bending Notes On Your Blues Harp
BECOME A HARP N GUITARIST
Hours of Harmonica and Guitar Video Instruction
Blues Harp N Guitar
Song Lessons, Music Theory, Ear Training, Jamming and more...
Become The Musician You Want To Be. Become a Harp N Guitarist.
Step-by-step high-def videos provide the foundation and building blocks you need to quickly learn how to play the harmonica and guitar, both separately and together, to play melodies and solos confidently on the harmonica to a rhythm acoustic accompaniment.

The Harp N Guitar program is arranged into video series that follow a logical learning progression allowing you to focus in on a particular aspect of learning harmonica and guitar.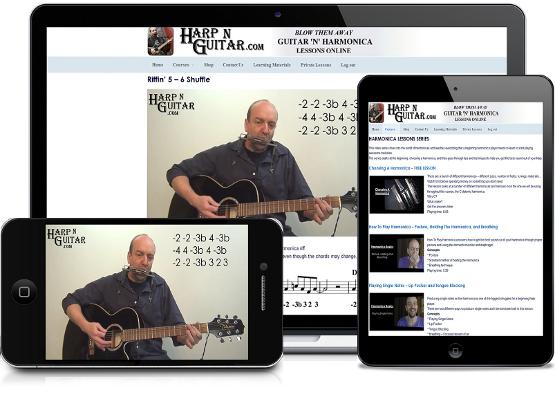 Online Instruction Available
Where You Are
When You Want It
Harp N Guitar Video Series
Harp N Guitar PDF Library
Thanks man! This is a great lesson. I looked at others before I found yours and yours really puts it all together in a way that suits my learning style.

Jon Drayna
I've been working on Neil Young's 'Heart of Gold'. You made it very fun, easy and enjoyable to work on. Thank you very much.

Larry
George – this is a really great lesson! Showing the strumming pattern was great. Thanks so much!

K West