Hi, my name is George Goodman.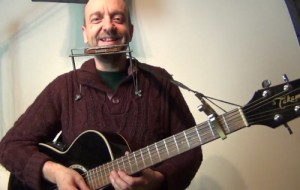 I was the fifth of five kids in a musical family, born in the sixties and influenced by the music my older siblings were listening to including Neil Young, Bob Dylan, The Rolling Stones, and The Band. What I consider to be some of the best music ever recorded.
There were always musical instruments around and everyone was encouraged to join in. Kind of like my place now.
I started on piano and migrated to saxophone in elementary school. I continued playing tenor sax throughout school and into college where I completed a commercial music diploma program at Capilano College, North Vancouver, in 1989 majoring on tenor saxophone.
I can't remember ever not owning a harmonica and have had a guitar since high school. I made my first harmonica holder out of an old wire coat hanger after hearing an interview with Chrissy Hynde of the Pretenders telling how she did that very thing.
Since then there has been countless bands and gigs, some jazz, some blues, but mostly and most happily classic rock n roll. My favourite gigs have been playing solo acoustic guitar, harmonica and vocals.
So music is one of the passions of my life.

I have always had an affinity for teaching and passing my knowledge on and videos online provide the ultimate opportunity to do this. I currently have dozens of Youtube videos hosted on my website, GeorgeGoodman.com, instructing how to play great songs on guitar and harmonica. I've received millions of views and incredible support from Youtube viewers.
This tremendous response and support demonstrated to me that there is a large number of under-served musicians or musicians-to-be who would like to learn guitar and harmonica together and would benefit from a no-nonsense ( well maybe a little ) step by step series of videos detailing how to play both guitar and harmonica and then how to bring them together to learn how to play their favourite songs.
Harp N Guitar is the result. I hope you benefit from it.
Cheers, George