Here's a new harmonica riff played to the Offbeat Blues Rhythm.
Lesson Length: 7:08
Instructor: George Goodman
* Riffin' harmonica riff
* Offbeat Blues Rhythm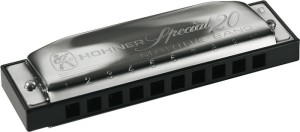 Here's my favourite – the Hohner Special 20.
I have shopped around to find you the best price possible.
I've found that Musician's Friend supplies the best price and delivers all over the world.
Click here to get yours – Hohner Special 20, Key of D
Riffin' and the Offbeat Blues Rhythm
This lesson combines a simple rhythm, the Blues offbeat comp with a 4 bar harmonica riff.
The riff is played three times in a 12 Bar Blues progression so that even though the chords may change, the riff stays the same.

The harmonica part that I'm demonstrating is played in second position and so we'll use a D harmonica for this.

Check out the Gear tab above for harmonica specials.

UA-45977247-1