Bob Dylan - Knockin' On Heaven's Door
Knockin' On Heaven's Door is classic Bob Dylan from the soundtrack to Pat Garrett and Billy the Kid.
Lyrics, chords, guitar and harmonica tabs are provided to help sound great.
Difficulty: A Great Place To Start
Lesson Length: 12:46
Instructor: George Goodman
The chords are basic. The strumming is nice and simple. The harmonica melody is easy to play without bending. Single notes are nice but some bleed is good too.
The Hohner Harmonica Neck Holder fits harmonicas up to 7-1/2″ long. With a long-lasting nickel-plated finish, this harmonica rack is adjustable and fits any neck shape.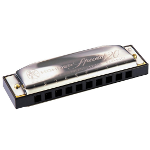 Hohner Special 20 Diatonic Harmonica in G
A G harmonica played in first position works great on this.
I am playing a Hohner Special 20 in this one.
00:47 - Guitar Chords
Dead easy chords for this one - G D Am and C
1:14 - Guitar Rhythm
A simple quarter note rhythm will work for this song.
You can also add embellishments to spice it up a bit.
3:37 - Harmonica Solos - Key of G
Here you will learn the harmonica tabs for the intro, verse and chorus.
The song is in the key of G and I'm going to play in 1st position so you need a G harmonica.
Here's the best place I know of to get one on the internet - Musician's Friend
And here's the neck rack - Hohner Harmonica Holder
7:25 - Jam Through
Play through the entire song with me including harmonica and vocals.
That covers Knockin' On Heaven's Door.
Stay In Tune. Peace.
George

UA-45977247-1