You need a harmonica holder if you're going to play harp n guitar. I made my first harmonica holder out of a wire coat hanger.
In this video, I'll show you my Hohner harmonica holder and how to load and unload it with a harmonica.
Difficulty: Easy
Lesson Length: 3:36
Instructor: George Goodman
There are lots of different harmonica holders to choose from. Here's mine.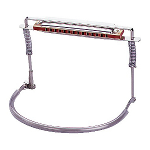 Hohner Harmonica Holder
The Hohner Harmonica Neck Holder fits harmonicas up to 7-1/2″ long. With a long-lasting nickel-plated finish, this harmonica rack is adjustable and fits any neck shape.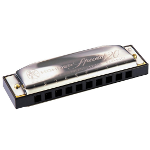 Hohner Special 20 in C
In this lesson, as in most of the lessons, I am playing a Hohner Special 20 in the key of C.
Free shipping in the US.

UA-45977247-1