Join The One-Of-A-Kind Harmonica 'N' Guitar Lessons Affiliate Program
Generate Recurring Revenue
Earn With Affiliate Marketing
Benefit From The Harp 'N' Guitar Difference
Utilize Top Quality Promotional Tools and Cutting Edge Sales Tracking and Reporting
Hi Friend,
Thank you for your interest in joining the Harp 'N' Guitar affiliate program.
With hundreds of affiliate programs available to join, what makes Harp 'N' Guitar different?
The Harp 'N' Guitar Difference
Everything You're Looking For in an Affiliate Program
Absolutely Unique Program – There is no other competition within this niche.
Research has demonstrated that there are tens of thousands of aspiring guitar and harmonica players, yet there is no other program anywhere that teaches the skills to learn how to play the guitar and harmonica together.
Highest Level Commissions – 75% for initial and recurring sales.
Numerous options exist for Harp 'N' Guitar membership.
The sale of a regular priced Lifetime Membership will pay you over $60.
The sale of a Yearly Membership pays out at over $30.
If you were to make just a single sale per day of the Yearly Membership, you would generate over $900/month.
Recurring Payouts – monthly memberships generate monthly payouts.
The sale of a single Monthly Membership will pay you over $4. That might not seem like alot but because the commission for recurring sales remains at 75%, you will continue to earn that same amount every month.
Let's see how this can grow.
A single sale per day of the monthly membership would generate an income of approximately $120 per month.
Do that for another month and your income would be the $120 for the month plus another $120 for the previous months sales.
Continue earning month after month, year after year, long after the original sale.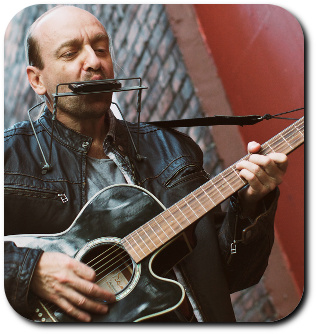 New Lessons added means enrollees stay enrolled and recurring commissions keep recurring.
Harp 'N' Guitar is an expanding library of guitar and harmonica video lessons with new lessons added regularly.
Internationally Admired University Trained Instructor
All Harp 'N' Guitar lessons are presented by Youtube's top Guitar and Harmonica song instructor, George Goodman.
George is a university trained multi-instrumentalist who also provides one-on-one live music lessons world-wide via the internet.
It is this live student interaction that gives George an unique perspective on the needs of students and what it takes to teach the two instruments together.
Industry Leading Sales Tracking and Reporting

All sales, tracking and reporting are provided by ClickBank.
What is ClickBank? Here are some highlights:
* Top 100 Online Retailer
* 200 Million Worldwide Customers
* Delivers Digital Lifestyle Products to Customers in 190 Countries
ClickBank has built their reputation by paying affiliates on time, every time.
Multiple payment options ensure you get paid when you want.
Get credit for sales even when a customer waits up to 60 days to make a purchase.
Advanced analytics allows you to increase earnings by fine-tuning your campaign targeting.
You will need to enroll as a marketer with ClickBank in order to get your own personal AFFILIATEID that is used to track your sales.
Sign up is free and easy. Just go to ClickBank.com and select Create Account to generate your AFFILIATEID which you will use when promoting Harp 'N' Guitar memberships.
Top Quality Affiliate Tools
To aid in promotion, HarpNGuitar.com provides numerous links and graphics of varying sizes that you can utilize.
HTML is also provided to make the job easier.
Are you already signed up with ClickBank and have your AFFILIATEID ready?
Then head over to the Affiliate Links page to view the available links and graphics and get started earning with HarpNGuitar.com.
If you have any questions, please post a message below.
Here's to your success!
Cheers!
The HarpNGuitar team.